Virus Surveillance: Empowering Communities Through Early Genotypic Testing for HIV Drug Resistance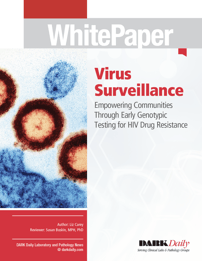 Experts now say that recent HIV epidemiology data and care gaps driven by the impact of the COVID-19 pandemic warrant increased vigilance to identify HIV drug resistance.
• Learn why testing for drug-resistant HIV mutations is timely.
• See recent policy decisions influencing HIV testing.
• Gain insights from virus surveillance, cluster detection and response efforts.
Health laboratories have an opportunity to position themselves at the forefront of reducing the harm of drug resistance and infectious disease. Exploring new options in viral genotyping HIV may be a promising path.
Produced in partnership with Thermo Fisher Scientific
Complete the form below to get your free white paper
The Dark Intelligence Group is committed to protecting and respecting your privacy, and we'll only use your personal information to administer your account and to provide the products and services you requested from us. From time to time, we would like to contact you about our products and services, as well as other content that may be of interest to you. In exchange for providing this free content, we may share your information with the companies whose content you choose to view. By accessing the white paper, you're agreeing to the above.
You can unsubscribe from these communications at any time. For more information on how to unsubscribe, our privacy practices, and how we are committed to protecting and respecting your privacy, please review our Privacy Policy.